CUSTOMER REVIEWS
These are honest testimonials from verified Kawaii Box subscribers. Find out what others say about our monthly kawaii surprise box!
4.79
/ 5 stars - 586 verified reviews

I loved the Kawaii box. it's so affordable for how many adorable items you receive in the box. I am so happy that I subscribed.
Sweets, Stationery, Keyrings, Stickers, a plushie, and a lifestyle item! I am super happy with the contents.
Highly recommend! Check out my unboxing to see what kind of items you could receive!
https://youtu.be/uEiWSyNSBXA – LIVE MARCH 6th
Christina Longoria
1 year ago
I absolutely love these boxes! I'm able to share some cute gifts with my friends and the candy is always super good. 10/10!
Really cute items
Realky liked it
A very cute box with a variety of different and adorable items! Would recommend :)
there was a huge variety of things everything was so cute just what I thought about when I was buying this
Even though I didn't know the characters in the box I was very happy with it. The box itself is really cute even though mine came damaged nothing on the inside was. I loved it and totally recommend it.
Response from Kawaii Box
I'm sorry to hear about the mistreatment of your box! Unfortunately, sometimes that happens with international postal services. Luckily the items were all OK! Be sure to send us an email if there's anything we can help you with!
My daughter absolutely loves this subscription box! The best one we have had by far, the box looks pretty and all the items inside are fantastic.
First time customer for my 13 year old. Received first box and it was adorable packed with all kinds of cute usable items. My daughter cannot wait for the next one to arrive! Cute box packed with goodies. Highly recommend ❤️❤️
It was my first time purchasing a subscription box and I must say I'm truly impressed! The items are indeed so kawaii. I would definitely purchase another again ❣️
My daughter really loved her box! So many wonderful items inside that were very cute! The price of the box didn't match the contents inside which was a good thing! The items inside the box were worth so much more! We are excited for the arrival of our next box!

I looove the box! I didnt expect to get a pen so pretty im surprised because its my favorite item in the box. And even if their is something that i like less it still kawaii so the theme is 100% respected 💖 i plan de do tiktok and IG post about it. Thank you i will subscribe again!

J'ai été séduite par Kawaii Box que je voulais tester depuis un moment, j'ai trouvé que le contenu était pertinent et de qualité. Il n'y a certes pas que des marques, pour autant ce sont de bons produits qui sauront satisfaires les plus jeunes comme les plus âgés. Et oui. Le Kawaii n'a pas d'âge.
Kawaii Box c'est une dose de joie, une pincée d'amour etune touche de bonheur.
Merci pour le sourire sur mes lèvres lorsque j'ai découvert chacun des produits…
La livraison était rapide, et l'emballage soigné. J'avais déjà apprécié Japan Candy Box, avec Kawaii Box je suis toujours aussi ravie. Au top ! Je recommande.
( Si vous voulez lire mon article complet en français : https://catzinwonderland.wordpress.com/2020/02/23/kawaii-box-valentines-day-chu-fevrier-2020-review/ )
I was seduced by Kawaii Box which I wanted to test for a while, I found that the content was good and of quality. There are certainly not only brands, but these are good products that will satisfy both young and old. And yes. Kawaii is ageless.
Kawaii Box is a dose of joy, a pinch of love and a touch of happiness.
Thank you for the smile on my lips when I discovered each of the products …
The delivery was fast, and the packaging was meticulous. I had already enjoyed Japan Candy Box, with Kawaii Box I am always happy. In the top ! I recommend.
I absolutely love everything i received in my box. I received a hair bow Barrett with little pom poms as my special gift. I highly recommend this monthly subscription!!

This box full of kawaii Japan accessories are amazing! Inside I found many different very cute things! Inside i found 2 different pack of cute stickers, a set of pastel highlighter, a fluffy purse a very pure soft pen, a pack of amazing biscuits and many other pastel things! Love all! Thank you so much
I decided to order one of these boxes and it finally arrived, it is adorable! 💕
The box was a bit damaged, which is sad because it is very cute in itself 🤭, but all the items are well protected inside. Thank you for the leaflet.
I love the cheesecake cookies. They taste very good! 😋
The Highlighter Set is one of my favorite items too, it's very cute.
The notebook is very useful and pretty, of good quality, and stickers are always appreciated.
Honestly, most or all of these articles are very useful, which was important to me (although I also wanted to be surprised ✨, thank you).
I'm very grateful. Worth it.
Thank you very much. ❤️
I really really loved my first box from you guys I don't regret subscribing to it I hope I get as many boxes to fill my room and heart with all the cute things that you guys send every month
Not bad for my first Kawaii Box! The stationary items are adorable and perfect for my work desk! Most of the items in the box are high quality, only a couple are sub-standard in my opinion. All of them, however, are adorable and suited the theme fairly well. Overall, very pleased, and excitedly awaiting the next box!

The Kawaii box was so much fun! I really enjoyed all of those items. I use my new pen and highlighters every day.
CHOOSE YOUR PLAN
Choose the plan you like the most, place your order, and your first kawaii subscription box will ship soon!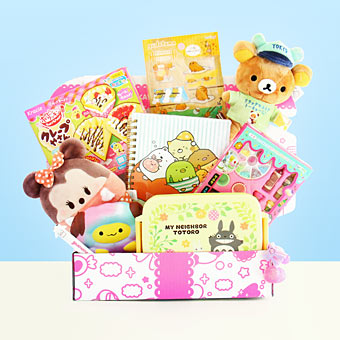 MONTHLY PLAN
US$ 32.90 /mo
8-10 special kawaii goods every month
FREE Shipping Worldwide
Recurring 1-month plan
Cancel anytime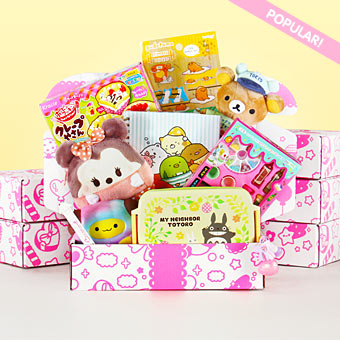 6 MONTH PLAN
US$ 29.90 /mo
8-10 special kawaii goods every month
FREE Shipping Worldwide
Ends after 6 months
You Save US$ 18!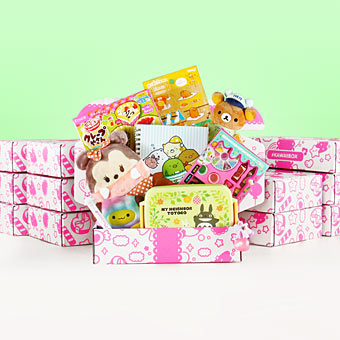 12 MONTH PLAN
US$ 24.90 /mo
8-10 special kawaii goods every month
FREE Shipping Worldwide
Ends after 12 months
You Save US$ 96!