CUSTOMER REVIEWS
These are honest testimonials from verified Kawaii Box subscribers. Find out what others say about our monthly kawaii surprise box!
4.8
/ 5 stars - 687 verified reviews
Janelle Chiricuzio
2 days ago
The box was cute a lot smaller than I thought it would be. But I got for my daughter and she loved and recognize many of the characters on the things so true to the style she wanted. It was packed full of things many paper goods but like I said a lot smaller than I thought it would be for the price.

This was a Christmas present from my Mom and I was so excited. I liked being able to track the status of the box all month long, looking forward to its arrival. When it finally came, I loved it! The plushies are the perfect size for me to carry one in my bag just in case I need a fluffy friend. I also like the candy and enjoy trying new things.
Judee Silvestri
3 days ago
Bought this as a christmas present! She loved her first box!

Received my first box and I loved it!
I'm giving my daughter a 6 month subscription for Christmas. So far, I have emailed the company twice asking a couple questions about my order and they have been very responsive and helpful. I'm pleased with the first box, and I'm sure my daughter is going to love it too. I highly recommend this for anyone who loves all things cute, squishy, and unique!
Elizabeth LeMaster
1 month ago
Such fun surprises! We love all things Kawaii and this box made my daughter so happy!!! Thank you!
Vianca Marquez
1 month ago
Boxes are adorable my 8,9 and 10 love them !!
Christine Broad
1 month ago
My daughter is thrilled with her box and the extras that came a few days later
I just got my first box . It was very cute I loved the Xmas plate and the gift bags. The rest was just ok. Didn't really feel like I got my money's worth but I'll try another month out see how it goes. The two items I mentioned made up for it.

Got my first box Im happy with all my stuff and my daughter loves it too we can't wait for the next one
I got this for my daughter Andromeda as she is a big fan of Kawaii and her reaction to receiving this gift was perfect, Im so happy, she enjoyed everything she received. So I'll have to save some money and get a subscription for her to enjoy again and again! Thank you
Cute assortment of Japanese characters on little trinkets for my 14 yo. She especially enjoyed the Sanrio characters.

Everthing is so cute, living in Canada it is so hard to find cute kawaii stuff. I was so glad to find the add of kawaii box on insta. I could finaly have my own kawaii things I always wished to have. It came with a lot more then I thought, really good quality items. I would say my fav item even though its really hard to pick would be the note book, it has such a sweet pattern on the cover. My cats fav item (cause cats like to be kawaii too i guess) where the towles and the box it's self. I kept trying to take cute pic of all the items but my cats photo bombed almost everyone, I also had to hid the box from the cats as they would non stop try to open and fit in it. The cats wernt the only ones who loved the packaging. I was smiling ear to ear as everthing was so cute and I am someone who really appreciates nice packaging. I can not wait for Decembers box as if comes about the same day it did this month it will come one my birthday!!! Thank you guys so much I loved everything and your costumer service is extent!
I loved everything in my box my favorite thing in the November box was the candy I would recommend this box to anyone who loves kawaii stuff
I'm really satisfied with my KawaiiBox. I was skeptical at first because I had never ordered one before, but after reading different types of reviews and seeing what people had to say, my worries vanished.
Shipment time was relatively fast, I was quite surprised. I expected it to take almost the full month but it shipped to my country within a week.
November's items were very cute. Although the pen that came with my box failed to work at times, but overall I did enjoy this box. I especially loved the notebook that came with it.
If you're curious about whether to purchase it or not, you should definitely do it. It's such a fun little box to open. :)

Loved it! Can't wait for next months!
The box is cute but smaller than expected. The items were very cute and useful :D

This was my first box. I love the packaging, and it came very quickly. The items were cute, but I don't see the point in receiving two towels in one box. I wish they also added a hero item like a vinyl figurine or a plushie. Some of the items I wouldn't consider full size items, more like bonus attractions. I wish there were more items per box, it felt a bit empty.
Robert Donsky
2 months ago
The Box was ok. Nothing great and very small for over 30.00. Stickers, notepad and a bunch of other small items. I'm giving them one more shot, we'll see how the 2nd box is.
CHOOSE YOUR PLAN
Choose the plan you like the most, place your order, and your first kawaii subscription box will ship soon!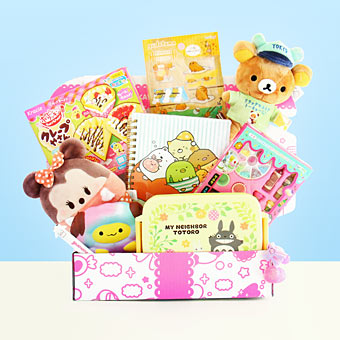 MONTHLY PLAN
US$ 29.90 /mo
6-8 special kawaii goods every month
FREE Shipping Worldwide
Recurring 1-month plan
Cancel anytime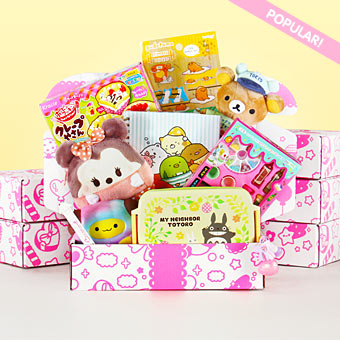 6 MONTH PLAN
US$ 27.90 /mo
6-8 special kawaii goods every month
FREE Shipping Worldwide
Ends after 6 months
You Save US$ 18!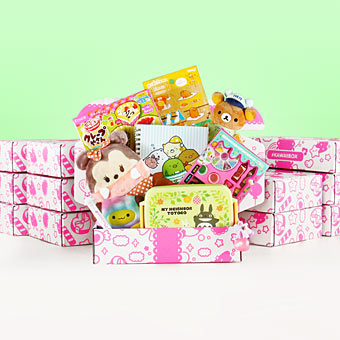 12 MONTH PLAN
US$ 24.90 /mo
6-8 special kawaii goods every month
FREE Shipping Worldwide
Ends after 12 months
You Save US$ 60!