CUSTOMER REVIEWS
These are honest testimonials from verified Kawaii Box subscribers. Find out what others say about our monthly kawaii surprise box!
4.82
/ 5 stars - 854 verified reviews
Kawaii Box is great! They give you a lot of sound items for a good price. I received the February box and was very happy with my Cinnamoroll socks they sent me. Fuzzy, and warm! Their packaging is cute, and the organization in the boxes were very neat. I'm not huge on buying "international" snacks, and it was good timing that that month's box didn't include any! Highly recommend them if you want a small, reliable gift for yourself :) I have two subscriptions, one for each granddaughter. The sixteen-year-old is in her third year of Kawaii Boxes. She says the number of items has decreased, but the larger items are such a great find! She has looked some of them up online and claims they cost more than the whole box of goodies! She does wish there were more pens. The younger girl is autistic and obsessed with anime, so she gets excited about each box. The little clip-ons decorate her school backpack, the plush toys are often sleep buddies. I can verify that your appeal is universal! Thank you for offering such unique collections!
Love the box everything was so adorable
I've always liked this adorable subscription. All the Sanrio items are the best~
The box was a little damaged BUT the products inside were super cute. Nothing inside was damaged and it was carefully packaged. I love how many items came inside and the variety of things I got! Definitely would recommend for someone whose interested in cute things.
Outstanding products! Thank you.

This box was so perfect, everything came in perfect condition and all the items were so cute! I highly recommend this box to anyone looking for adorable items that are useful!

My niece loved her first Kawaii box and is looking forward to getting the next one! Thank you so much!!!
Took about 6 weeks to actually get to me, but when I got my box I was happy as could be. Cute and amazing things in the box, couldn't be happier with what I got. Defs getting more boxes sent to me!
I love the plushie and the soft adorable socks!
The whole idea of a box full of surprises is very nice, I think I will order it almost once again!

I liked it :D i've only gotten one box so far but the packaging was sooo cute i kept the box so i could put stuff in it later LOL as for the items, i am obsessed with the kirby one touch box and i use it to store my jewelry now !!
Amazing things in the box! Loved my box this month! Absolutely amazing and so pleased with it! Bit too expensive but other than that amazing
I could not be happier with my KawaiiBox! All the statrionary, the plushie, the cutest tote bag, EVERYTHING just made me so happy! Love your team and love these items
Recieved a box as a part of a giveaway and adored every item recieved. Well packaged and arrived quickly. Everything was so cute!
Ha llegado la caja correctamente, estoy esperando que llegué mi sobrina a casa la semana que viene para que la abra y seguro le va a emocionar muchisimo.
Shelley Henss
2 months ago
I sent this box to my daughter and she loved everything inside!
We both hope one day we can visit Japan together!
Keep the smiles coming to Victoria BC
This was my very first Kawaii box! I have a small youtube channel called Dee's Playroom, where I unbox toys and subscription boxes. I unboxed this box on my channel!
This box was so cute!! I got a great variety of items from several fun and loveable characters!! I can't wait until my next box! 💞
I think my subscribers liked it too!! 👌😄

Bridgett Hagen
2 months ago
My daughter loved it! There was a variety of items!
CHOOSE YOUR PLAN
Choose the plan you like the most, place your order, and your first kawaii subscription box will ship soon!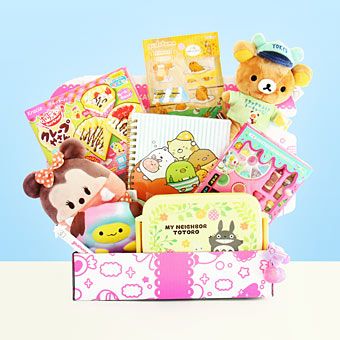 MONTHLY PLAN
US$ 29.90 /mo
6-8 special kawaii goods every month
FREE Shipping Worldwide
Recurring 1-month plan
Cancel anytime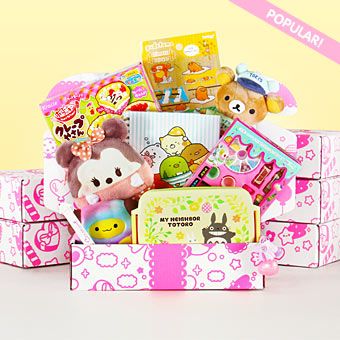 6 MONTH PLAN
US$ 27.90 /mo
6-8 special kawaii goods every month
FREE Shipping Worldwide
Ends after 6 months
You Save US$ 18!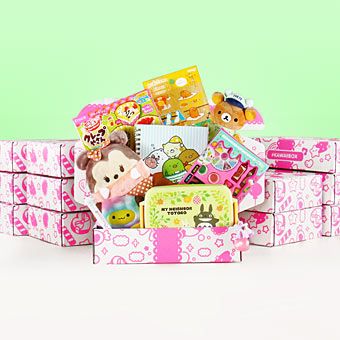 12 MONTH PLAN
US$ 24.90 /mo
6-8 special kawaii goods every month
FREE Shipping Worldwide
Ends after 12 months
You Save US$ 60!